10 Day Lord of the Rings Tour
Our 10 day Lord of the Rings Tours will take you from the capital Wellington to New Zealand's adventure capital Queenstown.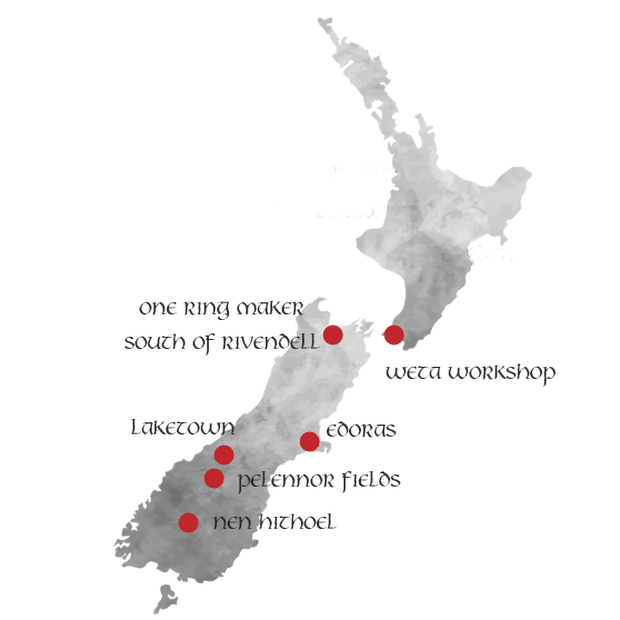 Overview & highlights
Our 10 day The Lord of the Rings Tours will take you from the capital Wellington to New Zealand's adventure capital Queenstown.
On the way, you'll discover captivating scenery, visit unique filming locations, meet characters involved in the making of the films, and experience a whirlwind adventure through Middle-earth.
Along the way, there are opportunities for helicopter flights and landings on iconic mountains used in the films, blacksmithing workshops, kayaking down rivers in stunning lord-of-the-rings movie locations, bungee jumping, skydiving or 4 wheel drive tours to amazing and romote film locations. All within a small fellowship of like-minded travelers, led by our passionate Lord Of The Rings guides.
Highlights
Direct Bookings: Receive a Red Carpet Tours welcome pack.
Climb the magnificent Edoras
Special presentation and custom souvenirs from the LOTR and The Hobbit Calligrapher and map maker, Daniel Reeve!
Behind the scenes Weta Workshop Tour and exclusive discounts for Red Carpet Tours passengers!
Relax and enjoy a scenic cruise ( 3.5 hours ) between the North and South Islands
Meet the makers of the 'One Ring'
Experience the magnificent Laketown
Charge across the Pelennor Fields
Experience the beautiful Queenstown - the fun and adventure capital of New Zealand
Visit beautiful Rohan country
Kayak down the same river from the Dwarves in Barrels scene from The Hobbit
Meet people involved with both the Lord Of The Rings & The Hobbit Trilogies!
Itinerary
Expand All
Check in at the Tour Hotel in Wellington at any time from 2 p.m. onwards and enjoy some free time in the city until you meet with your Tour Leader at 5.30pm. This evening you may like to dine at "The Green Parrot Restaurant" - said to be a favourite of Viggo's. Accommodation: In Wellington city for the next 3 nights.
Wellywood Day in New Zealand's movie capital! Extended Weta Workshop Tour, Weta Cave shopping and Weta Workshop hands on activities, The beautiful Roxy Theatre for lunch ~ included in the tour. Later today we check out the "Get off the road!" location from FOTR, overlooking the city. A full cooked Breakfast is included from Day 1 to 9.
Presentation day with LOTR / Hobbit Calligrapher Daniel Reeve, purchase custom souvenirs . Winter months a special movie guest is included as well. Later today is yours to explore Te Papa Museum / see a movie at the special Embassy Theatre / or visit other Wellington places of interest.
Our North Island Adventure concludes and our South Island Adventure begins! We catch the Inter-Island ferry from Wellington, sail to Picton in the South Island (approx. 3.5 hrs). After lunch, on our way to Nelson, stopping along the way to view the famous river, where the Dwarfs escaped from the Elves, in barrels! How about a fantastic 1 hour easy kayak down this amazing river and movie location with experienced local guides!! (optional extra) Accommodation tonight: Nelson.
Nelson day: This morning we meet and chat with the makers of the "One Ring". There, we meet Jens Hansen's son, Halfdan Hansen and see the wonderful range Lord Of The Rings and Hobbit jewellery. From lunchtime, weather permitting, there is a two hour 'optional extra' helicopter ride to the LOTR sites of 'South of Rivendell' and 'Dimrill Dale'. More than highly recommended! Accommodation tonight: Nelson
An early start south via the very scenic Kaikoura Coast stopping along the way for second breakfast, lunch and to see the beautiful fur seals at play. A great photography day and our RCT coach quiz! We then travel on south to Christchurch. An early night tonight for a big day tomorrow. Accommodation: Christchurch
It's time to head for the site (remote magnificence) that is EDORAS! We trek to the top and fly our Rohan Banner on the site of the Golden Hall! Later we'll view beautiful, mountain-fed lakes - Tekapo and Pukaki and see N.Z's highest Mountain - Aoraki / Mt. Cook, over 12,500 ft high. Accommodation: Twizel (Buffet Dinner included tonight.) This is a great place to study the night sky - and see the Southern Cross. Special guest tonight is a local Hobbit inspired seamstress, you may like to buy your own cloak.
We depart for the Pelennor Fields ~ an area that once rang to the thunderous sound of 250 horses on the charge, as King Theoden's battle speech roused men to battle. Moving on, we have a guided tour of the stunning Laketown film location and then Omarama for lunch. After lunch we make time to try your archery skills - perhaps we have a budding Bard or Tauriel amongst us? Afternoon tea at Mrs Jones's orchard, with amazing ice creams. Overnight - Cromwell.
This morning there are opportunities to Bungy at the famous Kawarau AJ Hackett Bungy bridge. Keen to jump above the river Anduin? Then onto Queenstown to enjoy this beautiful location, here we have time to pay for our Sunday activities and buy some lunch to take with us tomorrow on our big locations day. Our last 3 nights are in picturesque Queenstown, many great restaurants to explore.
The breaking of the Fellowship. Buy a picnic lunch today to take to Mavora Lakes, where we visit several Lord of The Rings NZ sites - The calling up of Shadowfax - The Silverlode bridge - The Orc funeral pyre - Fangorn Forest - Nen Hithoel - The log which concealed Merry & Pippin before Frodo left the fellowship - And where Sam and Frodo paddled away on the next stage of their journey. Stunning scenery! Tonight is our farewell dinner at our Hotel, feast like Hobbits ! Tomorrow is our Optional activity day in Queenstown.
Devote today to optional activities! A guided walk on the Routeburn Track? -A Nomad Safari 4 Wheel drive half day tour ! - A relaxing Wine and Food Tour. Perhaps a cruise on Lake Wakatipu. -A parasail over the lake. -A coach & cruise trip to Milford Sound. --An adrenalin Jet Boat ride or a Bungy jump? -Para-sailing? Para-gliding? White water rafting? A hot air balloon ride? Trout fishing? Relaxation at Onsen Hot Pools? -Or retail therapy ~ shopping in Queenstown. The list "goes ever on" and your Guide will discuss the many options available and assist with bookings.
Alas ~ your journey through Middle Earth with Red Carpet Tours is at an end. Thank you for traveling with us ..... there and back again..... Haere ra ~ Good-bye from us all at Red Carpet Tours. "Nai tiruvantel ar varyuvantel i Valar tielyanna nu vilya: May the Valar protect you on your path under the sky." On departure day you will need a domestic airfare from Queenstown to Auckland and then your international flight home from Auckland. We can recommend Air New Zealand for this domestic flight: www.airnewzealand.co.nz
Inclusions & Add ons
Private Bus transportation
All Hotel accommodation during Tour
All guiding services
Extended Weta Workshop Special activity day!
10 full cooked Breakfasts, 2 lunches, 2 Dinners,
Department of Conservation fees
Entry Fees to private LOTR locations
Inter-Island Ferry ( 3.5 hour scenic cruise ) Wellington - Picton
Special movie guests and artists.
Dates
Being in the Southern Hemisphere, our seasons here in New Zealand may be at different times of the year to yours (depending on where you live). Therefore, we have found it necessary to have seasonal itineraries to enhance your experience of Middle Earth. These comprise of the following months, please email us for a copy of your chosen New Zealand season itinerary.
March - May 2023 (NZ Autumn)
March 9th - 20th
Fully Booked
April 13th - 24th
Fully Booked
May 11th - 22nd
Fully Booked
October - December 2023 (NZ Spring)
October 12th - 23rd
Fully Booked
November 16th - 27th
Fully Booked
December Anniversary Tour
Fully Booked
2024 Dates
January - May 2024
Fully Booked
June 3rd - 14th
Available as a 12 day tour
July 1st - 12th
Available as a 12 day tour
September 12th - 24th
Fully Booked
October 10th - 21st
Fully Booked
November 7th - 18th
Fully Booked
December 4th - 18th
14 day tour only
2025 Dates Coming Soon...
This was a trip of a lifetime. I honestly couldn't imagine seeing Middle Earth any other way. Julie is amazing and truly cultivated an experience that I will treasure forever. If you're thinking about booking this trip—just do it. I promise that you will have the time of your life.
Brenna M
Everything about this tour was amazing! Our tour guide Julie is a true LOTR fan, and made sure everybody was looked after. The locations were well researched and meaningful. Even after the tour ended, Julie has kept in touch as we all went our separate ways and travelled home to various parts of...
Jody R
Amazing and so well worth it! Days in a row of just being excited for something alone was something special to me but also meeting like-minded people who were so accepting and fun was fantastic! Julie James is a treasure - handles everything with grace and was just everything you want in a tour...
Tracy E
There is a reason that this company is the premier in its field. I've been home for almost a week now and I'm still struggling to comprehend how incredible my experience with Red Carpet Tours was. This was hands down one of the best things I ever have, and likely ever will do in my...
Taylor K
With Julie James as our guide (Feb. 2018) on the 14 day tour... it was excellent! She always took every effort and opportunity to see to everyone's requests. The hotels we stayed in were wonderful. The meals were delicious. But the tour itself??? Awesome!!! We had big LOTR and the Hobbit...
Katherine C
I went solo and am a bit of an introvert, but Julie and the rest of the tour members made this an unforgettable experience and made me feel right at home. This was number one on my bucket list and it exceeded my expectations across the board. If you're contemplating booking this tour, just...
Jordan M
This tour changed my life, Julie and Josh were amazing tour guides, everywhere we went was stunning. I could not have asked for anything more from them. Even where there were some hiccups outside of anyone's control Julie and the team worked tirelessly to ensure we had the best experience...
Jon
Just concluded my third trip with Red Carpet Tours. 5 stars for the 3rd time running! Excellent planning and attention to detail by the James Family and fabulous guiding by Julie. Once again, a very lovely, friendly 'Fellowship' of travellers with a common interest. You might expect...
Sue B
I don't have enough good things to say about this incredible experience. Our guide Julie is so knowledgeable and fun about everything LOTR AND New Zealand in general! My husband and I went for our belated honeymoon and I would do it all again in a heartbeat. You're fed like Hobbits...
Taylor & Nick L
Just returned as part of the February 2023 Fellowship with Red Carpet Tours and it was one of the best trips of my life. I've been wanting to do this for years and was worried my expectations might be too high, but it was amazing and I wish it didn't have to end! Love the family...
Emily V
View More