12 Day September International Hobbit Tour
This particular tour includes the special International Hobbit's Day celebration in Hobbiton that only happens once a year!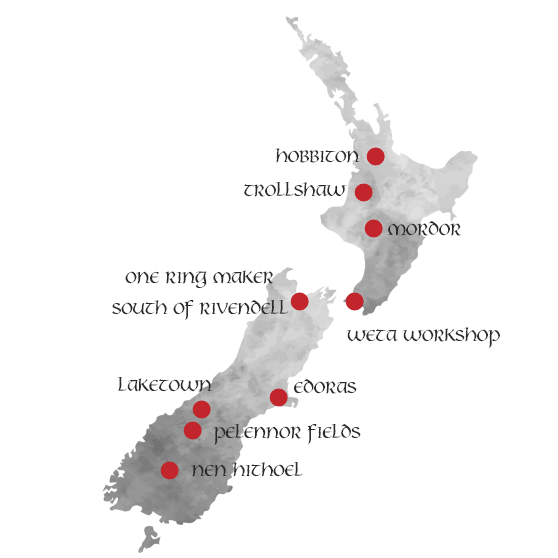 Overview & highlights
Our special 12 day Lord Of The Rings tour will take you on a Middle-earth adventure from Queenstown through to Auckland. This particular tour includes the special International Hobbit's Day celebration in Hobbiton that only happens once a year!
This tour is unlike any of our other LOTR tours because it begins in the stunning adventure capital of Queenstown, and finishes in New Zealand's largest city, Auckland.
Along the way you will meet those involved in the making of the movies, such as artists from Weta Workshop on our special extended behind the scenes Weta Workshop tour! Enjoy an amazing half day presentation by Daniel Reeve who was the LOTR and The Hobbit Calligrapher and map maker. Travel off the beaten track into the breath-taking landscapes and natural attractions New Zealand has to offer.
Along the way, there are also many opportunities to experience unique New Zealand activities such as: flying over The Remarkables and Skippers Canyon, experience our native Maori culture, pan for gold, visit wineries, adventure through Rohan country and climb the magnificent Edoras, skydive or raft down a white water river. All within a fellowship of like-minded travellers, led by our passionate LOTR guide.
Costumes are encouraged and always lots of fun. We will be having special Weta Workshop prizes for the best costumes as well!
This Lord of the Rings tour is perfect if you have traveled with us before – bringing you new and exciting LOTR experiences and other New Zealand activities. Newcomers are also completely welcome and we promise you will love this tour!
A hard copy of your itinerary will be given to you on arrival in Queenstown. Please note that itineraries can be subject to occasional late changes should new exciting opportunities arise or unexpected events occur. We strive to make each month's itinerary as good as it can be. This Tour starts in Queenstown, finishes in Auckland and includes special Hobbit Celebrations.
Highlights
Mavora Lakes, Fangorn Forest and 6 other Lord of the Rings movie locations in Queenstown
Explore the stunning Pelennor Fields and Laketown locations
Climb to the top of the magnificent Edoras & fly the Rohan Flag
​Flight from Christchurch to Wellington
​Weta Workshop extended behind the scenes Tour and and visit with Weta artists
Exclusive Red Carpet Tours discount at Weta Cave!
Roxy Theater costume themed lunch
Daniel Reeve calligrapher and map maker for both the LOTR & Hobbit trilogies
Iconic "Get Off the Road" movie location from Fellowship of the Ring
Mordor & Emyn Muil locations
Gollums Fishing Pool
Explore Bilbo's Shire and the Green Dragon
​Trollshaw Forest experience
'International Hobbits Day Celebration' with costume competition and banquet dinner at Hobbiton
Auckland farewell dinner and special Hobbit guest presentation
Itinerary
Expand All
Arrival Day and Welcome Dinner in Queenstown. Meet your fellow travelers and enjoy a buffet dinner. Accommodation: Crowne Plaza, Queenstown.
(Cooked / Buffet Breakfasts included.) Be ready to depart at 08.00 ~Queenstown - Mavora Lakes - Queenstown. Big Locations day! A picnic lunch is required today. We take a picnic lunch to the Mavora Lakes today and several LOTR sites *the Orc funeral pyre, *Silverlode Bridge, *Fangorn Forest, *the log which concealed Merry & Pippin before Frodo left the fellowship, *and where Sam and Frodo paddled away on the next stage of their journey. Stunning scenery! This afternoon we travel back to beautiful Queenstown. Accommodation: Crowne Plaza Hotel, Queenstown.
Queenstown Optional Activity Day: Devote today to optional activities, the list 'goes ever on '......... Your Guide will discuss the many options available and assist with bookings. • A helicopter flight to the Ford of Bruinen? • Horse trekking • Perhaps a cruise on Lake Wakatipu? • A parasail over the lake? • A guided walk on the Routeburn Track? • Zip Trek? Luge? • A Nomad Safari LOTR 4 Wheel drive half day tour? • Dart River Wilderness Jet Safari? • An adrenalin Jet Boat ride or a Bungy jump? • Para-sailing ? Para-gliding? White water rafting? A hot air balloon ride? Trout fishing? Relaxation at Onsen Hot Pools? • Or retail therapy ~ shopping in Queenstown. Your Guide will have a full list of recommended Tours to maximise your time and enjoyment.
Queenstown - Arrowtown - Laketown - Pelennor - Twizel. First up beautiful historic Arrowtown and a chance to purchase authorised quality Lotr and Hobbit Jewellery at a discounted price. (Pre orders available) This morning we head through the very scenic Lindis Pass to our morning activity, time to try your archery skills! Perhaps we have a budding Bard or Tauriel amongst us! First stop is Laketown, a stunning location from the Hobbit set on the shores of Lake Pukaki. Breathtaking scenery and original props abound. Before you leave you and Alfrid will be checked to see if you have any stolen any gold (wink). Then follow on with the Pelennor Fields ~ an area that once rang to the thunderous sound of 250 horses on the charge, as King Theoden's battle speech roused men to battle. Overnight: Twizel, The Mackenzie Country Inn (Buffet Dinner included). Meet the cloak seamstress and maybe buy your very own cloak!
Twizel - Edoras - Christchurch This morning we drive north past Lakes Tekapo and Pukaki. Look for our highest mountain ~ Aoraki, Mt Cook the Cloud Piercer. 12,300 feet. stop for second breakfast and to purchase a picnic lunch on our way out of Twizel this morning. It's time to head for the site and magnificence that is EDORAS - a very spiritual experience! It's a 30 minute trek to reach the summit of Mt Sunday. The 360 degree views are breathtaking ! You will stand where the Golden Hall once stood and survey the mountain panorama all around you as you fly the Rohan flag! Weather permitting we will eat our lunch up here. You'll be reluctant to leave. Overnight: Christchurch, The Sudima Hotel.
Christchurch - Wellington. Domestic flight from Christchurch to Wellington (included) . In Wellington we visit the FOTR "Get off the road" location. Afternoon free time, we suggest you visit the amazing Te Papa Museum and or Zealandia wildlife park.
Weta Workshop extended Tour and costume competition with great prizes. Lunch at the beautiful Roxy Theatre's CoCo restaurant , feast like Hobbits!
Presentation by the very talented Callighrapher and Cartographer for all six films, Daniel Reeve. Opportunity to purchase some of his work, amazing custom souvenirs!
Wellington - Mt Ruapehu - Tongariro Chateau. Travel day to Ohakune, RCT coach quiz and Gollums Fishing Pool movie location, staying in the Tongariro Chateau.
Ruapehu - Trollshaws - Rotorua. Weather dependent we may be able to visit Mordor and Emyn Muil, then travel to stunning Trollshaws from the Hobbit. Guided Tour in Trollshaws by the enthusiastic land owners. This afternoon making our way to Rotorua. Fancy a soak in the hot mineral pools tonight? Overnight in Rotorua.
Rotorua - Matamata - Rotorua. Optional Activities available in Rotorua this morning , leaving for Hobbiton in the early afternoon for International Hobbits Day Celebrations in Hobbiton; including entertainment, Costume Competition and dinner in the Green Dragon marketplace !
Rotorua - Auckland. Half day optional activities in Rotorua this morning, leaving early afternoon for Auckland. Farewell Dinner and special movie guest at our hotel. Overnight in Auckland.
Alas ~ your journey through Middle-earth with Red Carpet Tours, is at an end. Thank you for traveling with us... there and back again... Haere ra ~ Goodbye from us all at Red Carpet Tours.
Inclusions & Add ons
Private bus transportation with unlimited free Wifi onboard
Welcome pack for direct bookings
All guiding services
Special Movie Guest
Hotel Accommodation
13 Breakfasts, 5 Lunches & 2 buffet Dinners
Entry Fees to private Lord Of The Rings New Zealand sites
Department of Conservation fees
Entry fees for Hobbiton International Hobbits day celebrations event and food
Weta Workshop extended Tour, workshop and Costume Competition
Domestic flight Christchurch - Wellington
Special presentation guest from the films
Dates
September 2022 (NZ Spring)
September 12th - 24th
Fully Booked
September 2023 (NZ Spring)
September 12th - 24th
Fully Booked
September 2024 (NZ Spring)
September 12th - 24th
Bookings now open!
This was a trip of a lifetime. I honestly couldn't imagine seeing Middle Earth any other way. Julie is amazing and truly cultivated an experience that I will treasure forever. If you're thinking about booking this trip—just do it. I promise that you will have the time of your life.
Brenna M
From first contact with the James family, and the Lord of the Rings-Red Carpet Tours, you are in the best of hands. You expect so much on the tour but you receive so much more. I came back from my first tour believing I'd never have a better, truly satisfying experience, and they could...
Barbara S
Traveling New Zealand with RCT and Julie was amazing. It was the trip of a lifetime (but I hope to do it again!). It was very well put together and we got to see such amazing sites and do so many awesome things. I can't even name what my favorite part of the whole tour was because it was...
Lynn S
With Julie James as our guide (Feb. 2018) on the 14 day tour... it was excellent! She always took every effort and opportunity to see to everyone's requests. The hotels we stayed in were wonderful. The meals were delicious. But the tour itself??? Awesome!!! We had big LOTR and the Hobbit...
Katherine C
Red Carpet Tours is a fabulous company - been with them 3 times. I agree with others posted here that it is the BEST way to see New Zealand, especially if you are a "Lord of the Rings" and "Hobbit" fan - and even if you're not! From all the Magnificent New Zealand...
John N
I don't have enough good things to say about this incredible experience. Our guide Julie is so knowledgeable and fun about everything LOTR AND New Zealand in general! My husband and I went for our belated honeymoon and I would do it all again in a heartbeat. You're fed like Hobbits...
Taylor & Nick L
This is the best and ONLY way for a LOtR/Hobbit fan to experience New Zealand. Julie and her team are fantastic, knowledgeable people who, you can tell, put so much time and effort into making sure your experience with them is an amazing one! You will not regret choosing them as your guides...
Stephanie B
Everything about this tour was amazing! Our tour guide Julie is a true LOTR fan, and made sure everybody was looked after. The locations were well researched and meaningful. Even after the tour ended, Julie has kept in touch as we all went our separate ways and travelled home to various parts of...
Jody R
I went solo and am a bit of an introvert, but Julie and the rest of the tour members made this an unforgettable experience and made me feel right at home. This was number one on my bucket list and it exceeded my expectations across the board. If you're contemplating booking this tour, just...
Jordan M
Just concluded my third trip with Red Carpet Tours. 5 stars for the 3rd time running! Excellent planning and attention to detail by the James Family and fabulous guiding by Julie. Once again, a very lovely, friendly 'Fellowship' of travellers with a common interest. You might expect...
Sue B
View More