6 Day Lord Of The Rings Tour
Our 6 Day North Island LOTR tour whisks you away from Auckland on an adventure exploring Hobbiton, Trollshaws, Gollum's fishing pool, the secret entrance to Erebor and Wellington with Weta Workshop, Weta Cave and much more!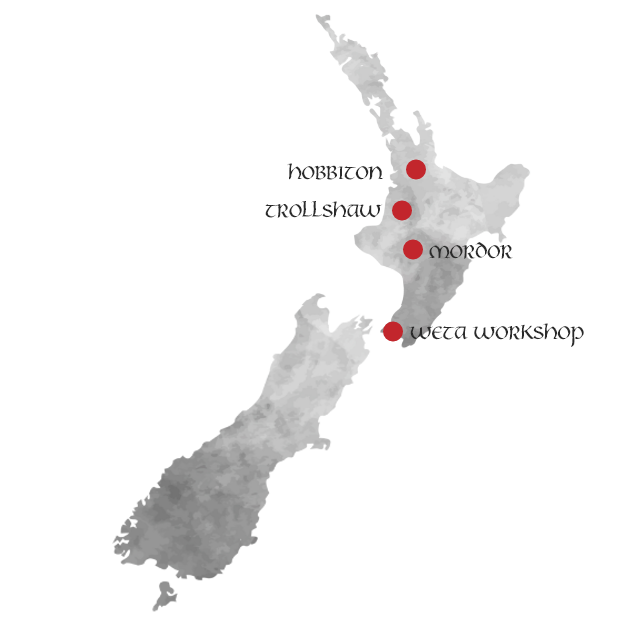 Overview & highlights
Our 6 Day Lord of the Rings North Island Tour whisks you away from Auckland on an adventure exploring Hobbiton, Trollshaw Forest, Gollum's fishing pool, the Secret Entrance to Erebor, Weta Workshop, Weta Cave, Roxy Theater and the iconic "Get off the road" location from The Fellowship of the Ring. Enjoy off of this while driving through stunning New Zealand Middle-earth scenery.
This Tour includes special presentations by Daniel Reeve, the calligrapher and map maker for both LOTR and Hobbit Trilogies as well as another special movie guest (during our Winter months).
All within a small fellowship of like-minded travelers, led by our passionate LOTR guide.
Highlights
Visit Trollshaw Forest and stunning scenery
Explore Bilbo's Shire and Hobbiton Tour and lunch!
Experience breathtaking Gollum's fishing pool film locations
Behind the scenes Weta Workshop tour and exclusive discounts for Red Carpet Tours passengers!
Daniel Reeve presentation, Lord of the Rings Calligrapher and Cartographer - buy exclusive souvenirs.
'Get off the road' location from Fellowship of the Ring.
Itinerary
Expand All
Direct bookings. You receive a Red Carpet Tours Welcome pack. We gather this evening for our Welcome Dinner , to meet each other and prepare for our early start tomorrow. Accommodation: Auckland City.
Be ready to depart at 08.00 ~ Auckland to Rotorua via Hobbiton. (A full cooked Breakfast is included from Day 2 to 7.) Prepare to be enchanted by Hobbiton - a very special site to visit. Have your camera batteries charged for photos of the tranquil Shire, Bag End, Sam & Rosie's cottage, the Party Tree. Enjoy a cool drink at The Green Dragon followed by lunch in a Marquee beside The Green Dragon (included in tour cost). Optional evening Maori concert and hangi dinner, highly recommended!
Rotorua to Trollshaw Forest and a wonderful guided tour of this Hobbit location - stunning scenery. We will enjoy a picnic lunch (included) on our way to the majestic Huka Falls and the geothermal capital of New Zealand; Taupo. Overnight -Lakeside Taupo accomodation.
This morning a Hobbit location of the Secret Entrance to Erebor and Lotr location of Gollum's fishing pool, where Andy Serkis was careful not to plunge over the waterfall! Then, it's on to Wellywood ~ Wellington City. Tonight you may like to dine at "The Green Parrot Restaurant" (Optional) - said to be a favourite of Viggo's. Accommodation: Wellington, for the next 3 nights.
Wellywood Day, Miramar - New Zealand's movie capital ! Extended Weta Workshop Tour, Weta Cave, The beautiful Roxy Theatre for lunch ~ included in tour. Later today we check out the "Get off the road!" location from FOTR, overlooking the city.
Presentation day with LOTR / Hobbit Calligrapher and Cartographer Daniel Reeve. Purchase amazing custom souvenirs. Winter months include a special movie guest presentation. Afternoon free to explore Wellington, a must see is Te Papa Museum. Thank you for travelling with us... there and back again...
Alas ~ your journey through Middle Earth with Red Carpet Tours is at an end. Thank you for traveling with us ..... there and back again..... Haere ra ~ Good-bye from us all at Red Carpet Tours. "Nai tiruvantel ar varyuvantel i Valar tielyanna nu vilya: May the Valar protect you on your path under the sky." On departure day you will need a domestic airfare from Wellington to Auckland and then your international flight home from Auckland. We can recommend Air New Zealand for this domestic flight: www.airnewzealand.co.nz
Inclusions & Add ons
Private bus transportation with unlimited free Wifi onboard
Welcome pack for direct bookings
All guiding services
4 Star Hotel Accommodation
6 Breakfasts, 4 Lunches & 1 buffet Dinner
Entry Fees to private Lord Of The Rings New Zealand sites
Department of Conservation fees
Entry fees for Hobbiton and festive feast lunch
Tour fees at Trollshaws
Weta Workshop extended Tour and workshop
Special presentation guest from the films
Dates
Being in the Southern Hemisphere, our seasons here in New Zealand may be at different times of the year to yours (depending on where you live). Therefore, we have found it necessary to have seasonal itineraries to enhance your experience of Middle Earth. These comprise of the following months, please email us for a copy of your chosen New Zealand season itinerary.
2023 Dates - Fully Booked
2024 Dates - Fully Booked
NEW 2025 Dates
January 6th - 12th
2 seats left!
February 3rd - 9th
Fully Booked
March 3rd - 9th
Fully Booked
April 1st - 7th
Fully Booked
May 5th - 11th
2 seats left!
June 2nd - 13th
Available as a 12 Day Winter Tour only
July 7th - 18th
Available as a 12 Day Winter Tour only
September 12th - 24th
Available as a 12 Day Tour only
October 6th - 12th
2 seats left!
November 3rd - 9th
2 seats left!
December 1st - 15th
Available as a 14 Day Tour only
This tour changed my life, Julie and Josh were amazing tour guides, everywhere we went was stunning. I could not have asked for anything more from them. Even where there were some hiccups outside of anyone's control Julie and the team worked tirelessly to ensure we had the best experience...
Jon
I went solo and am a bit of an introvert, but Julie and the rest of the tour members made this an unforgettable experience and made me feel right at home. This was number one on my bucket list and it exceeded my expectations across the board. If you're contemplating booking this tour, just...
Jordan M
Everything about this tour was amazing! Our tour guide Julie is a true LOTR fan, and made sure everybody was looked after. The locations were well researched and meaningful. Even after the tour ended, Julie has kept in touch as we all went our separate ways and travelled home to various parts of...
Jody R
Amazing and so well worth it! Days in a row of just being excited for something alone was something special to me but also meeting like-minded people who were so accepting and fun was fantastic! Julie James is a treasure - handles everything with grace and was just everything you want in a tour...
Tracy E
Red Carpet Tours is a fabulous company - been with them 3 times. I agree with others posted here that it is the BEST way to see New Zealand, especially if you are a "Lord of the Rings" and "Hobbit" fan - and even if you're not! From all the Magnificent New Zealand...
John N
This is the best and ONLY way for a LOtR/Hobbit fan to experience New Zealand. Julie and her team are fantastic, knowledgeable people who, you can tell, put so much time and effort into making sure your experience with them is an amazing one! You will not regret choosing them as your guides...
Stephanie B
This was a trip of a lifetime. I honestly couldn't imagine seeing Middle Earth any other way. Julie is amazing and truly cultivated an experience that I will treasure forever. If you're thinking about booking this trip—just do it. I promise that you will have the time of your life.
Brenna M
Just returned as part of the February 2023 Fellowship with Red Carpet Tours and it was one of the best trips of my life. I've been wanting to do this for years and was worried my expectations might be too high, but it was amazing and I wish it didn't have to end! Love the family...
Emily V
I don't have enough good things to say about this incredible experience. Our guide Julie is so knowledgeable and fun about everything LOTR AND New Zealand in general! My husband and I went for our belated honeymoon and I would do it all again in a heartbeat. You're fed like Hobbits...
Taylor & Nick L
From first contact with the James family, and the Lord of the Rings-Red Carpet Tours, you are in the best of hands. You expect so much on the tour but you receive so much more. I came back from my first tour believing I'd never have a better, truly satisfying experience, and they could...
Barbara S
View More